Avoid the hype
Having real choice in choosing an operating system (OS) wasn't really true back in the days when Linux was just for nerds, but today you can really get a good computer with a good OS for cheap.  The latest Microsoft offering can be purchased online for less than $100. New players and bankrolled development have given us cheap and free operating systems that will do almost everything you want your computer to do. With Ubuntu, Mint and other flavors of Linux, competing head to head with Microsoft and Apple, it's hard to resist.
So, how do you distinguish the hype and the tripe when evaluating an OS?
The commercials
Many people have misconceptions about operating systems and what advice to take or leave.  The biggest mistake they make is getting their advice from an advertisement.
Watching the Mac commercials denigrate PC is entertaining, but is it accurate.  And although the commercials do point out some of the short-falls of the Windows operating system, keep in mind that primary motivation is to get you to buy a Mac.
Window commercials about "Why I am a PC" are somewhat informative, in that they highlight one of the primary reasons for not buying a Mac -  they're overpriced.
Unfortunately, you won't find any expensive T.V. ads for Linux, because it is almost entirely built by volunteers.  You can find some cool videos that mock the PC-Mac commercials, and a whole lot of old information about how Linux is just for nerds.
The fanboys
There are also cheerleaders for the three main operating systems - Linux, Mac and Windows - I call those cheerleaders "fanboys".  Fanboys really only distort the valid trade-offs of competing OSs.
Reality check
All operating systems have their strengths
All operating systems have their disadvantages
The best operating system is the best operating system for you
Apple Macintosh
Should you buy an Apple Macintosh?  If you can afford it, maybe.  Their base models start at around $1000.  Your $1,000 + tax price tag get's you very little in terms of hardware or software.
The advantage of having a Mac is that they have their own software, specifically developed for their hardware.  What this means is that it will just work. It also means that there will be less issues regarding configuration than with say Linux.
Macs also are less vulnerable to computer virus attacks.  This is partly because the system is built on a BSD (Unix) kernal, which is more secure and less familiar to the population at large and because there are significantly fewer Macs than Windows machines.  So, if you have deep pockets and want a machine that, out of the box, will "just work" without the fear of computer virus attacks, Macintosh might be your best choice.
There are also certain industries that have traditionally been Mac only. The media has traditionally been a Mac dominated industry.  Printers, graphic designers, newspapers, advertising creators, publishers, photographers, video editors and movie makers, have traditionally been Mac people.  If you are in one of these industries, you might consider spending a few thousand dollars for a high end Mac.
The cons
The disadvantage of having a Mac is the availablility of software and accessability to cutting edge technology.  Everything is a trade-off.  Getting a computer that requires little configuration and "just works" means sacrificing the latest and greatest.  So, your computer will work great, but you may not be able to get a version of that cool software you have heard so much about that will run on your computer.  This OS is my least favorite, because I value choice.  Macs don't give you a lot of choice unless you have deep pockets.  Even then I question whether it's really worth the money.
Windows
I never thought that I would say this, but Windows 7 is probably one of the best operating systems - ever.  Windows 7 had it's most successful release and rollout of an operating system ever, this last fall.
Because Windows has been the standard, it is packaged with a lot of different vendor software.  The operating system if newly  installed on a clean system - not an upgrade - is faster and leaner than both XP and Vista. Windows 7 gives you a wide choice of proprietary and open source software to run on your operating system.  Support for hardware is also very good, which is a switch from what we experienced with the initial rollout of Vista.  If you want a computer that is not too expensive, does it all, but requires a little configuration and attention to keep it safe on the Internet, this could be your operating system.
The cons
Windows is still windows.  This means that viruses are made to target your computer.  If you want to use this kind of computer you definitely need to understand how to take steps to protect your computer from the myriad of computer viruses that are manufactured every day to target Windows' systems.  Also, the user interface and the kernal still have the signature glitches that require you to reboot your computer every couple days or so - depending on your usage.  But learn safe computing, get yourself a copy of Windows 7 Ultimate and then enjoy.
What about Linux(Ubuntu)? * Best Value

Ah, I saved the best for last.  Thanks to increased bankrolled support by big corporations and people with deep pockets, Linux has come a long way.  Novell, Oracle, Canonical and Red Hat have teamed up with the open source community to produce a truly amazing operating system for home users and business.  So, if you have little or no money and you want an stable and safe operating system with a sleek interface for your desktop computer, Linux might be your OS.
If you don't need to use specific proprietary software, but you would like to build your own router, telephone system, home or business file system, web server or entertainment center without spending a lot of money you should really give Linux a look.  Linux has a completely different file system than Windows, so most viruses have no effect on a Linux system.
Linux uptimes without the need to reboot are the longest, with some servers running for years without a hickup.  The open source community has written software that will do virtually everything that software on a Windows system will do without having to reboot or shell out hundreds of dollars.
You don't need an anti-virus package (but it might be good to get ClamWin anyway).  That's right, the Linux file system is so alien to almost all viruses that they have no effect on your system.  You can surf the Internet like Superman, without fear of villans or monsters.
Ubuntu also has a variety of desktop managers, and virtual desktops that you can activate and install.  Various effects alow you to rotate the various desktops like a cube.  Oh, right, Windows and Mac don't give you multiple desktops.  Well, Windows does, but you have to log in as a different user to get to the desktop.  With Linux it's just a matter of clicking on a box down in the lower right corner and your desktop is there.  You can also use a desktop manager like Compiz Fusion to make your computing really exciting with all sorts of effects.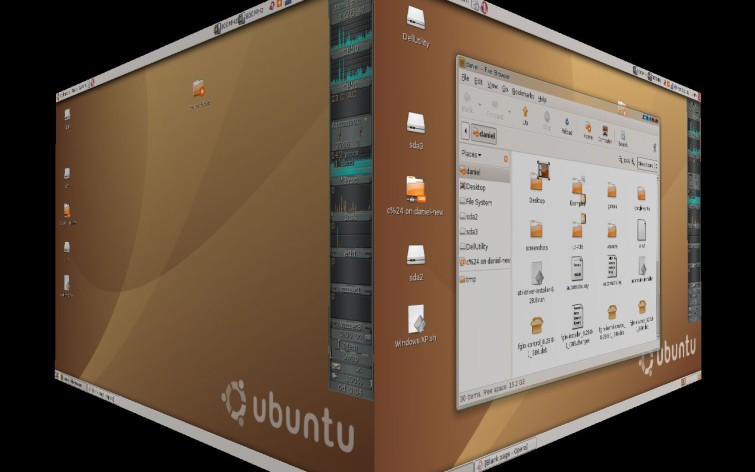 Because the support for Linux is world-wide and expansive, getting help when you have problems is just a click away.  There are thousands of forums where beginners and experts can meet online to solve any configuration problems you may experience.
The cons - None?
I was going to say that there is a learning curve, but I gave a friend a computer with Ubuntu Linux on it and he is able to do everything he wants on that computer.  He surfs, watches YouTube, Hulu, checks his mail and keeps track of his finances.  He says, "It's fast!"  He's a luggage handler with United Airlines, so not much of a techie.   If he can do it, you can too.
{jcomments on}